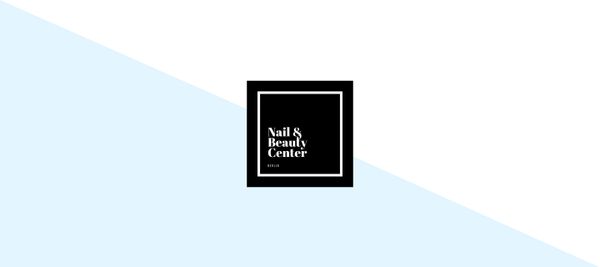 Rethinking the beauty business with user experience
overview
As the lockdown eases in Germany, changes in how people do business have only just begun. Social distancing has forced traditional in-person businesses like beauty salon, to get creative with solutions to meet consumers' new and evolving needs.
Anna, age 53, owns a nail & beauty salon in a busy area in Berlin (Europa-Center complex). About half of her clients are tourists and, the other half are loyal customers. Like for every one of us, the pandemic affected her life and work and, she soon realised that she needed to rethink her options and move towards a more pandemic-friendly business environment. She turned to us, students at Brainster, to help her make the right decision. For this project, we were split into three teams of five students.
My role
Research, usability study, stakeholder alignment.
Team
Irina, Victoria, Sarah, Frane, Zana
The challenge
Help Anna reduce physical work and stabilise her income.
Research
Stakeholder interview
To have a better understanding of Anna's situation, Martina Mitz our instructor organized a Zoom meeting with her where she gave us an overview of her daily work life and business goals.
Key learnings
Anna cannot work the same as before due to health problems
She would like to reduce her physical work at the same time she enjoys working with people
She cannot afford to hire more staff due to the uncertainty of the COVID-19 situation
She recently started selling beauty products on her existing website
In the future, Anna would like to develop her own brand of cosmetics
Competitive analysis
Anna has already a website for her beauty salon, where she recently started selling skincare beauty products. We looked at direct and indirect competitors that sell similar services & products.
Findings
Strong social media presence
Google customer reviews
Discounts and special offers available
They either specialize in selling products online or offer beauty treatments
Desk research
Data shows that consumers nowadays are ingredient-savvy, prefer vegan, organic and cruelty-free products. The trend is going towards clean cosmetic products, skincare being the second-largest branch of the beauty industry, with more than 23% of its revenue.
User interviews
Wearing makeup on a daily basis and styling one's hair took a downward turn during the pandemic because consumers felt that if they weren't seen, they wouldn't bother. However, consumers are saying that taking care of their skin, nails and hair care needs is comforting and reduces stress.
We chose a total of nine participants from the younger generation ( 20+) and the older generation ( 40+) and conducted semi-structured interviews with them. We tried to discover their pain points, needs and goals.
Brand importance/products info for home treatments.
Type of treatments and frequency of visits to beauty salons.
Choosing color.
Online presence of beauty salons.

We read reports from various sources to understand the purchasing behaviour and preferences around beauty products. We gathered demographic and attitudinal information regarding who will buy the products and which is the best way to reach the target audience.
User interviews insights
Brand importance
Younger customers are ingredient savvy, they like to keep up with trends and started buying DIY kits in lockdown. If the brands they use consistently deliver a positive experience, consumers form an opinion that the brand is trustworthy, which gives them peace of mind when buying.
Type of treatments and frequency
Consumers from the older generation like going to the salon at least once a month to boost their self-esteem and reduce stress levels. Loyal to their beautician. Enjoy advice from qualified professionals.
Choosing color
The majority of our participants said they would like to know in advance what colour options they have before booking a treatment (palette colours and videos).
The importance of online presence
The majority have said that they check for reviews and before & after photos ahead of purchasing products or treatments.
Persona
We created a persona based on our research to represent the user group who faced similar problems. This gave us a more clear picture on how to address the needs and expectations of Anna's customers.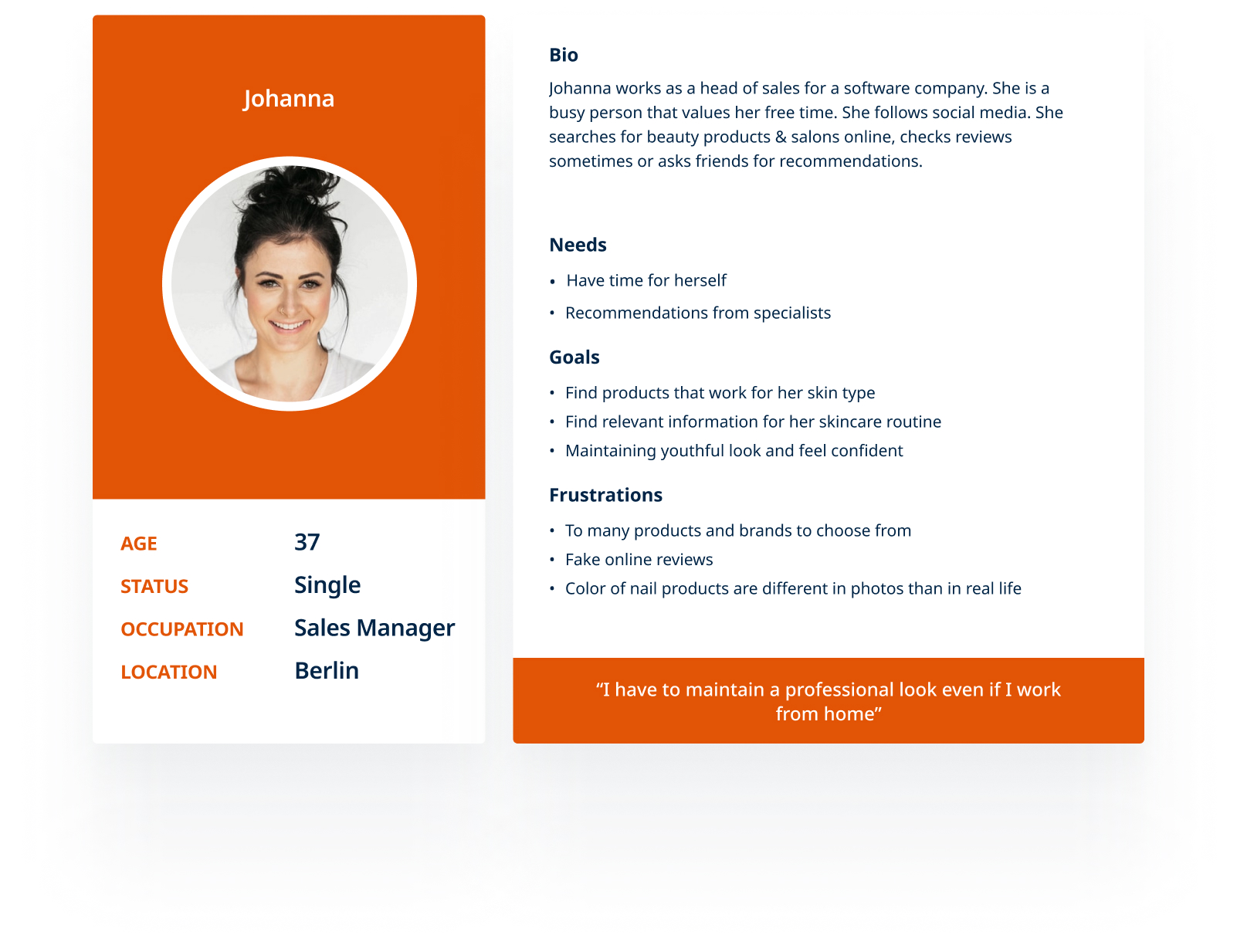 Experience map
Furthermore, creating an experience map helped us recognize buying patterns, what motivates people into buying, what are their needs, hesitations and concerns.
Presentation
Stakeholder presentation
We met with Anna a week later and, each team presented their findings. Based on her feedback, we continued with ideation.
Takeaways
Anna can't afford to take more than 2 customers at a time and she is doesn't want to hire more staff.
Her online shop is fairly new but she would like to continue selling more products.
Would like more exposure through social media and she is considering improving her SM presence.
Doesn't want to do tutorials because the market is oversatured with influencers.
Products she sells on her online shop are carefully selected and tested by her.
Teaching other professionals is not an option at this moment.
ideation
Brainstorming ideas
Through the bet/cost matrix technique we assessed and prioritized ideas. These were discussed and evaluated according to their cost and potential.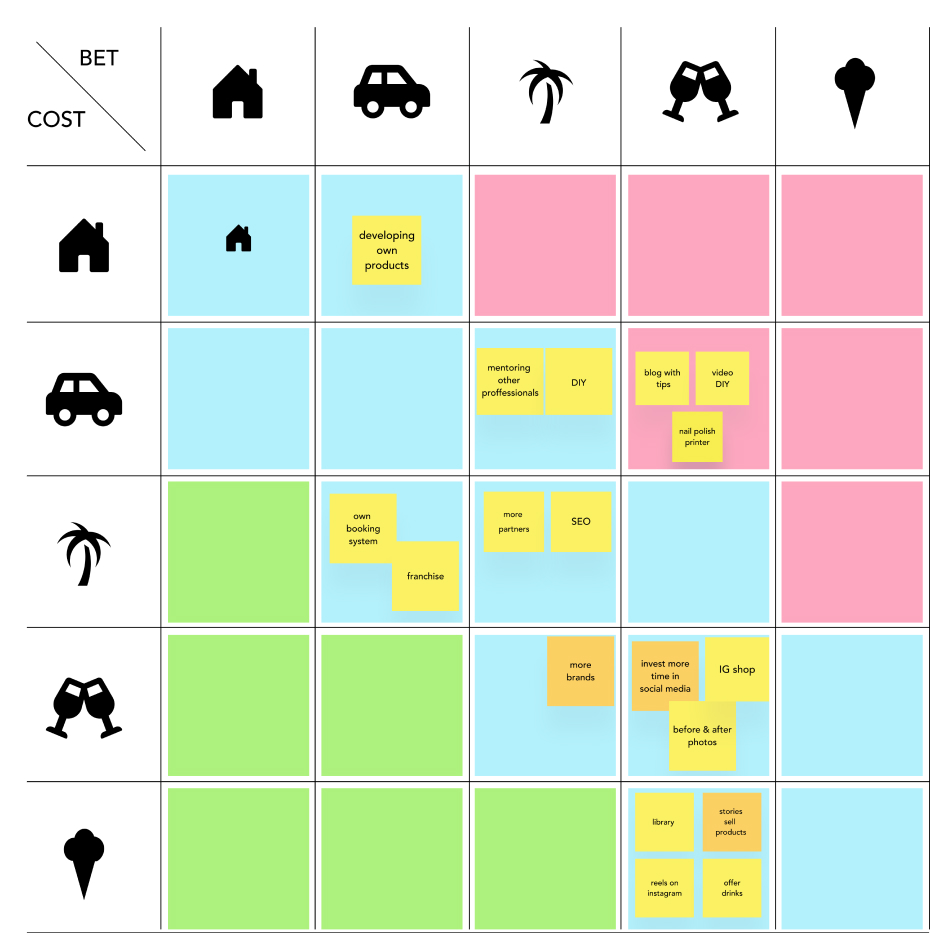 Concept time
We agreed on one concept, discussed how this would help Anna's business and how will it work for the users. We then determined the risks and discussed what we should test with the users.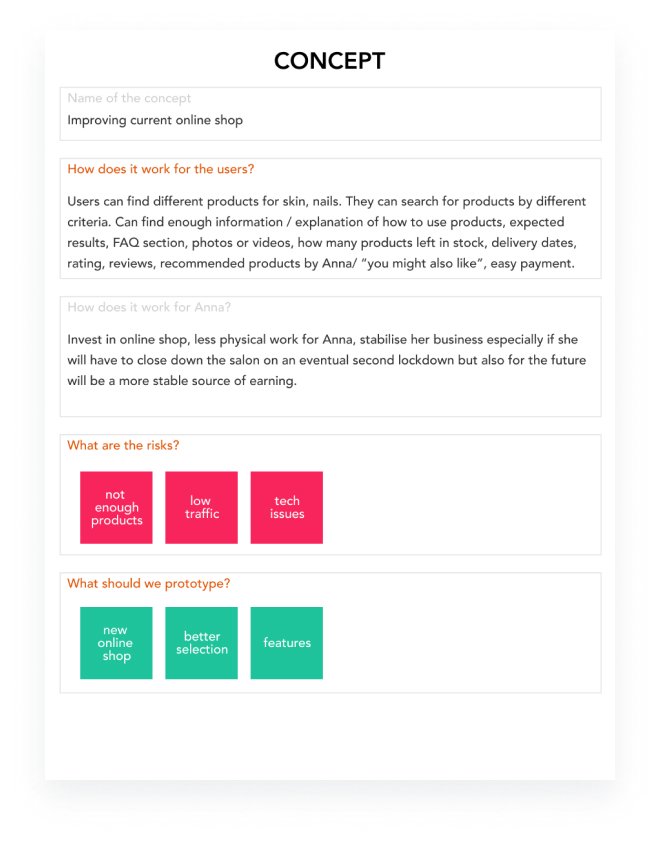 Design
Mockup screens were created to test our ideas and to see how all of our design decisions play together.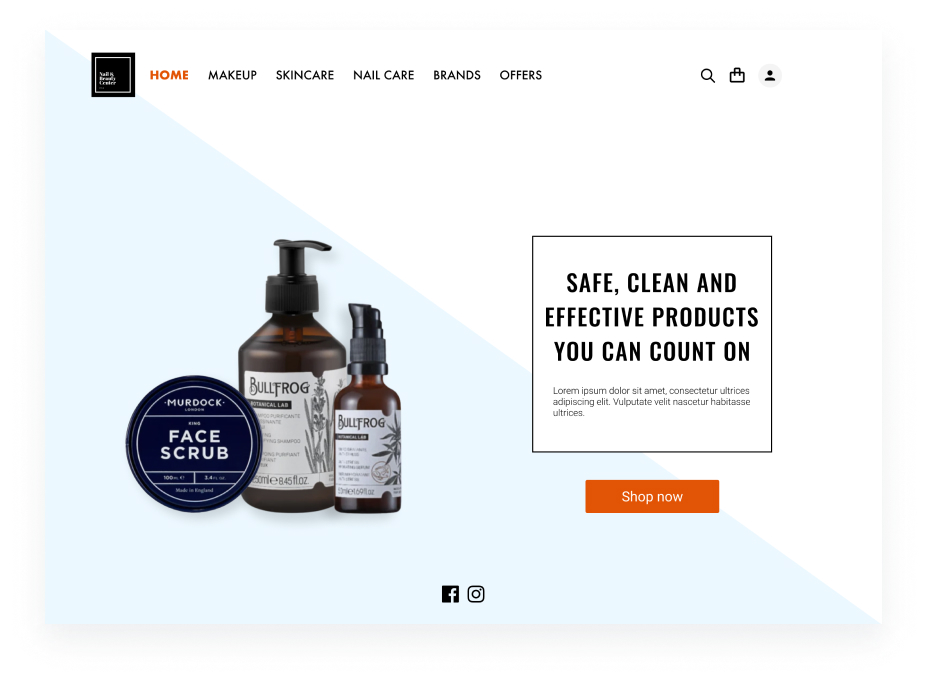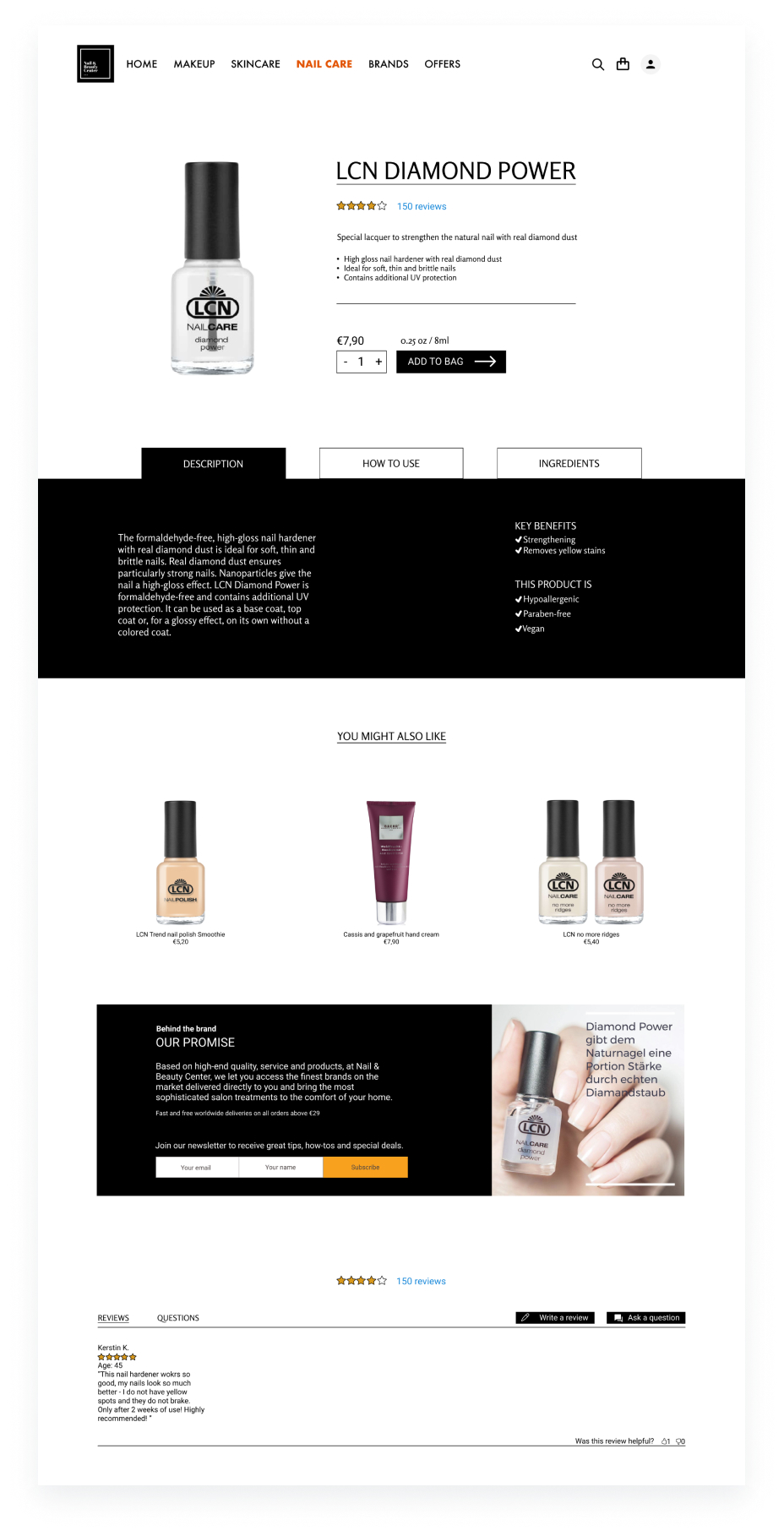 Usability testing
Validating ideas
We recruited nine users for this moderated usability study. This test revealed how various factors like online reviews, navigation and presentation affect the purchasing behaviour of consumers.
Findings
Users were confused by the "Nail & Beauty Salon" logo for a cosmetic & skincare shop
Nearly all of our users have said that the online reviews, both positive and negative, influence their buying decisions. They check them before making a purchase
It was observed that six out of nine participants saw use of search option
Final results
Stakeholder presentation
On our final meeting with Anna, we presented an overview of our research from the beginning, the mockups with an explanation of what we were testing, the connection between our concept & her business goals and the main findings from the user testing. We explained that when all this data is aligned it creates the best user experience for both the users and Anna which eventually leads to her business growth.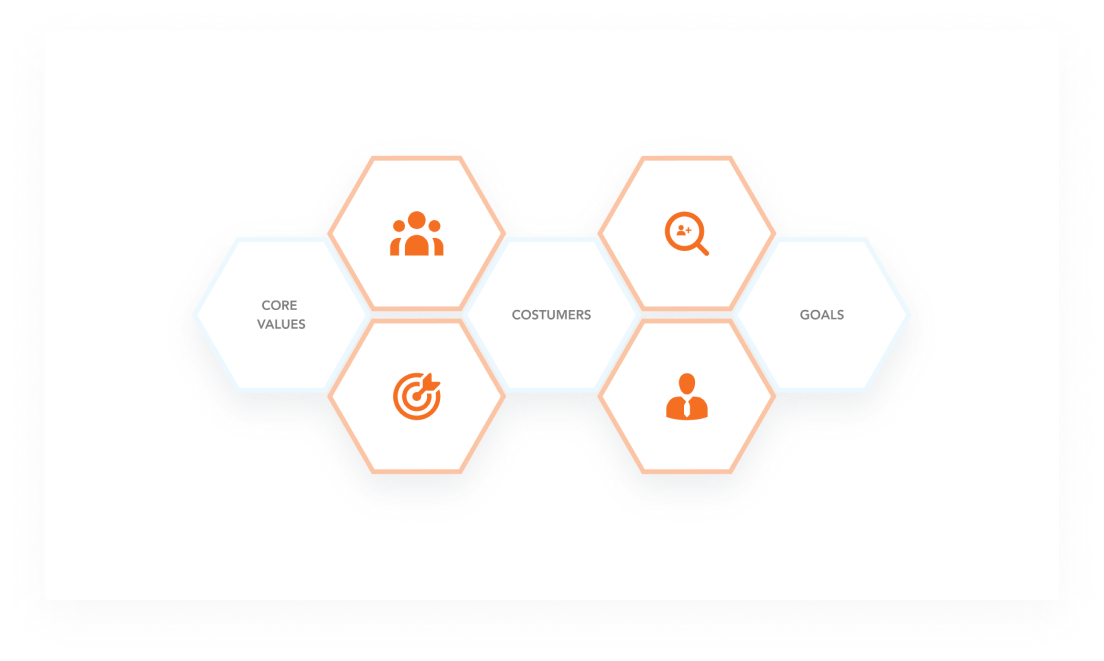 conclusion
Reflection and next steps
Our scope as designers is not only to delight users through well-crafted design but to also bring value to the business. Having weekly meetings with Anna and hearing her thoughts early on in our research process helped us to review our approach to ensure it fits her needs.
Next steps would to be to create a full working prototype incorporating the feedback that we received from our users and conducting another round of usability testing.